Methodology for the detection of new variants of SARS-CoV-2 in wastewater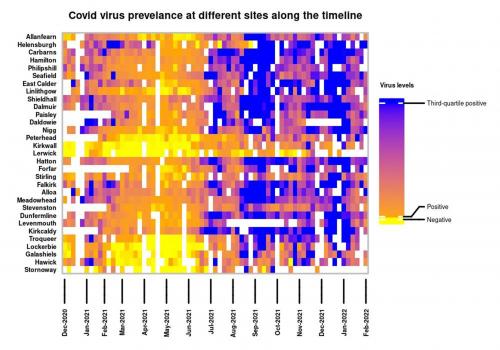 This project aims to develop a process for variant monitoring, and to capture, curate and report the technical outputs and organisational learning, to derive benefit from the existing investment in sampling viral material from Scottish wastewater.
Results include:
Testing but rejecting PCR-based methods (qPCR, dPCR), optimising a DNA next generation sequencing method.

Over 2000 wastewater samples from across Scotland have been screened to monitor the spread of Omicron and then BA.2 variants between November 2021 and March 2022.

This method also has potential for analysing multiple pathogens simultaneously. Pilot experiments have commenced to measure influenza virus, as well as SARS-CoV-2, in wastewater.
Making the data and methods generated by the Scottish programme widely available safeguards the public investment and has been achieved by providing training on data management, and by depositing outputs on platforms to maximize visibility while assuring cost-free, long-term, sustainable preservation.
Similarly, valuable lessons may be learned from the operational processes that have developed across sectors to enable the monitoring of SARS-CoV-2 in wastewaters in Scotland. The 'Lessons Learned' phase is synthesising these lessons and qualitative assessment of the differences between the equivalent programmes in the 4 UK nations and internationally is continuing.
Project Objectives
The aims of the project were:
1) To provide a workable, testing process for SARS-CoV-2 (Covid-19) variants, similar to the CREW project's contribution for SARS-CoV-2 abundance.
2) To share the outputs from the wastewater monitoring programme by Open Research methods.
3) To conduct a 'Lessons Learned' review from the development and management of the programme and to infer any general lessons and recommendations for Scottish Government and its agencies in delivering future, urgent programmes.