The North Glasgow Integrated Water Management System: A review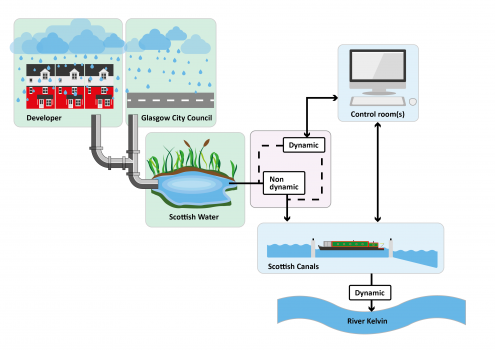 The Metropolitan Glasgow Strategic Drainage Partnership is made up of Scottish Water, Glasgow City Council, Scottish Canals, South Lanarkshire Council, Clyde Gateway, Scottish Enterprise, Renfrewshire Council, East Dunbartonshire Council and the Scottish Environment Protection Agency (SEPA) and represents an innovative approach to water management which meets the objectives of the Hydro Nation Agenda. Since its inception the partnership has sought innovative ways to manage urban water systems that are ultimately sustainable and support the continued growth of Glasgow. The North Glasgow Integrated Water Management System is at the study phase and is part of the regeneration plan for North Glasgow. The integrated approach to water management will provide a range of benefits that include:
long-term regional growth
jobs in the local area
ecological recreational spaces
green infrastructure
sustainable urban drainage
internationally recognised case study in best practice water management
improvements to air quality
Project Objectives
Review the current NGIWMS studies that have been carried out to date specifically of the development plans and the area. This is important to develop an overall picture of the technical as well as the socio-economic system in which the  development is to take place and understand the scope of the current situation, hydrological and urban context.
Undertake a short review of examples of best practice from elsewhere in UK and EU. This review identified a wider context of how such developments are being carried out, or planned elsewhere.
Offer suggestions for enhancement to the plans, or areas where expertise should be brought in to develop certain technical aspects. Examples of this may be research or known sensor techniques for hydrology, or evaluation techniques that could be applied in terms of evidence for perceived socioeconomic benefits.