National Coastal Change Assessment 2: Enhancing the evidence base and our ability to adapt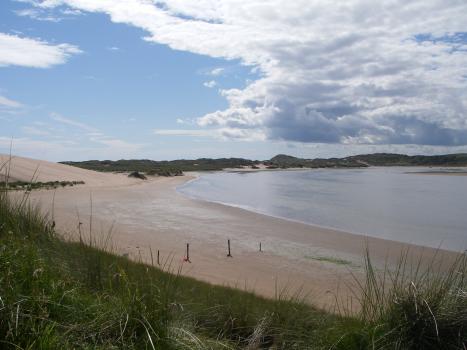 The CREW-funded National Coastal Change Assessment (NCCA) has revolutionised the evidence base of coastal change. The entire 21,000 km of the Scottish coastline has been categorised and 3,800 km of potentially erodible 'soft' coast identified and investigated to quantify historic and recent mobility. Of the soft coast, 23% has experienced significant change. Looking forward, past rates have been projected to 2050 to identify likely areas of erosion and the assets (roads, rail, housing etc.) that may be vulnerable.
Whilst the NCCA is a significant step forwards in understanding coastal erosion in Scotland, the steering committee recognised that its results were:
Indicative: due to data accuracy and the stochastic nature of coastal erosion
Partial: considers only those areas subject to past erosion and excludes those that may erode for the first time in the future
Conservative: does not consider accelerations in erosion due to climate change
Two-dimensional: reflects planimetric changes only with change inferred for the whole beach from movements of Mean High Water Springs (MHWS). Contrasting this, three dimensional techniques reflect volumetric changes across the intertidal, upper beach and hinterland allowing sediment exchange between sections of the beach to be better quantified to support more informed adaptation.
This subsequent project seeks to enhance the evidence base developed by NCCA and where possible, address the above limitations to help appreciate if, and how much, we may be underestimating future erosion and erosion enhanced flood risks.
The outputs of this project will help Scotland lead by example in climate change mitigation and adaptation along our coast, which is particularly exposed to climate risks. It will also help meet Scotland's obligations under multiple aspects of the Climate Change Adaptation Programme, Flood Risk Management Act, Community Resilience Strategy, Scottish Planning Policy, National Marine Plan, Historic Environment Scotland's Climate Change Action Plan, Land Use Strategy and Scottish Biodiversity Strategy.
Project Objectives
Erosion enhanced flooding: Identify natural features the removal of which may increase flood or erosion risk. Create a methodology to identify features that may be most vulnerable to erosion along with a database of these features. Also identify where beach lowering at defences may increase flood risk.
Climate change increased erosion risk: Consider erosion implications and erosion enhanced flood risk. Consider the implications of the climate change scenarios and identify sites suitable for adaptation.
Enhance change analysis: Develop methodologies to improve understanding of dynamism (i.e. including relationship between MHWS and vegetation edge).
Mitigation and Adaptation: Develop Mitigation, Adaptation & Resilience Plans at key sites.
Increase adaptation awareness: Provide data analysis support to SG staff to identify adaptation and collaboration opportunities to assist organisation uptake of adaptation.
Social vulnerability to coastal erosion: Consider vulnerability of communities by performing disadvantage mapping for coastal erosion of Scotland.