Slender Naiad (Najas flexilis) Habitat Quality Assessment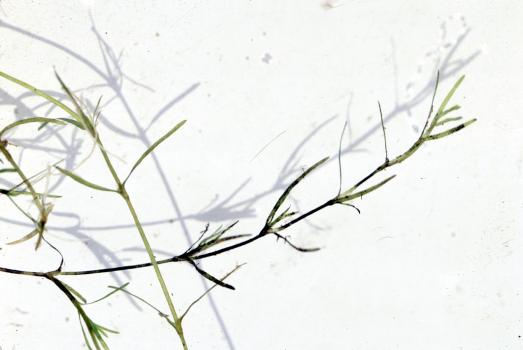 Slender Naiad (Najas flexilis) is a submerged aquatic plant that occurs in clear lowland water bodies often with base rich substrates. It is seldom found in water less than 1m dep. In the UK this species, although previously found in Esthwaite Water, is now only found exclusively in Scotland. Therefore, actions to improve the species' conservation in Scotland have a particular importance. It is listed under Annexes II and IV of the EC habitats Directive and Appendix I of the Bern Convention. It is protected under Schedule 8 of the Wildlife and Countryside Act. It is on the Scottish Biodiversity List.
The Slender Naiad is believed to be under increasing threat in Scotland. Although the overall number of sites is currently relatively stable, it has not been found for some time in a number of previously occupied, notably mainland, lochs including sites surveyed recently. It is not fully understood what affects the health of Slender Naiad. The reasons why it disappears, and where and why it fares well need to be better understood. More need to be known about actions that can be taken in order to ensure that the habitat quality for Slender Naiad is maintained or restored. A literature review of existing studies on habitat requirements, disappearance, health, and reintroduction from Scotland and other countries where Slender Naiad is native (Ireland, Canada, USA, etc.). Further, it needs to be identified what type of data should be reviewed and/or collected in order to assess (in a future project) the suitability of Scottish lochs as habitat for Slender Naiad. Further, it needs to be identified what data is already available, where, and how to access it.
Project Objectives
Research question(s) to be answered through this project
1. What are the habitat requirements necessary for the health of Slender Naiad populations in Scottish lochs? Can further information be drawn from studies in other countries (Ireland, Canada, etc.)? What data is currently available to identify a) the existence of Slender Naiad in Scottish Lochs b) the water, soil, and other habitat conditions that may affect the health or decline of Slender Naiad?
2. What additional data would need to be collected or modelled in order to assess the suitability of different Scottish Lochs for Slender Naiad?