Private Water Supplies and the local economic impacts in Scotland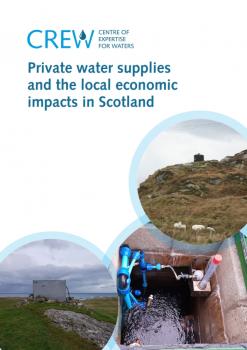 There are approximately 22,000 private water supplies in Scotland serving a population of nearly 197,000 people
Many of these are also micro- and other businesses which rely on these supplies for their existence: frequently
providing services to a broader public as visitors and tourists particularly in remote rural areas of the country.
This study provides evidence of the impact private water supply reliance has upon social and economic
infrastructure; business development; costs of clean water; land management and stewardship and support needs.
It also highlights indicative issues within three sectors (tourism, dairy farming and forestry) that are likely to be
more widely pertinent.
The findings reveal the complexity of private-supply arrangements and infrastructure, and the considerable
gaps to be bridged to ensure future rural social and economic sustainability, system effectiveness, and to
reduce localities' vulnerabilities.