Investment decisions at small drinking water supply systems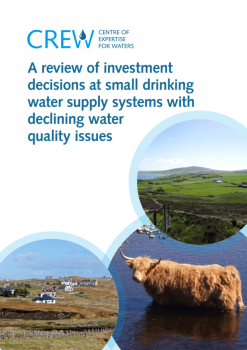 This project sought to review the challenges in delivering drinking water compliance, with a focus on the quality and quantity of investment drivers, and to assess the proposed or deployed solutions against these criteria. These outputs will assist in identifying value for money criteria for investment; identify how the policy and regulatory framework includes water treatment choices, risk appetite and costs; identify how changes to the policy framework could improve value for money and sustainability and inform policy on drinking water treatment based on economics and quality enhancement. The reviewed investment processes related to existing water supply schemes that are in the process of undergoing improvement or have already undergone improvements to meet appropriate qualitative and quantitative standards.
The review found that the decision-making processes employed by Scottish Water to address declining water quality issues in small supplies are underpinned by the need to ensure overall cost effectiveness, sustainability and provision of a reliable and wholesome water supply. It has been found that Scottish Water procedures are generally effective and informed by stringent application of internal procedures underpinned by the relevant regulatory and policy framework. The current intervention definition process (IDP) appeared to be robust, seeking to improve cost benefit analysis and value management while involving a wide range of stakeholders. The process is well aligned with drinking water safety plans and seeks a high level of protection for water consumers, regardless of the size of the supply.
The study has also identified several challenges in capital investment process for small systems and suggests that the current robust nature of the Intervention Definition Process (IDP) process makes it lengthy, and potentially complex. The study suggests that an opportunity exists for further enhancing the IDP process for small systems through improved engagement with academic and professional specialist support and harnessing the technical capacity and innovation where available within Scottish Water operations across all regions, whilst still balancing risk and the need for a secure provision of service.