Key barriers to the adoption of innovation in water and wastewater service provision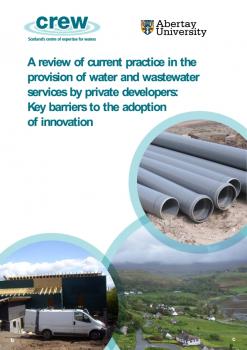 The aim of the research was to identify barriers faced by private developers in the provision of innovations in water and wastewater services and to provide recommendations to enhance innovation in building and managing water and wastewater assets. In order to achieve this aim, the project team carried out a detailed literature review using data and information sourced from academic and grey literature to identify barriers to adoption of innovation in water and wastewater service provision. This was
accompanied by collection and review of information obtained from key stakeholders and developers. Scottish Water guidance documents provided to developers were reviewed to identify where barriers to innovation may exist within the guidance. A survey of developers was carried out to gain direct feedback from private sector actors on barriers to innovation. A meeting with the Scottish Water asset vesting team was held to discuss any key issues.
The literature finds that the drivers for the adoption of innovation in water and wastewater services are typically top town (regulator or utility drivers) or bottom up (community or consumer driven), whereas the developers or private sector supply chain typically takes a conservative approach to innovation. The reasons for this can be linked to the barriers to adoption of innovation in water and wastewater services, largely applicable across the construction sector.
These barriers include:
Lack of internal/external financial resources to fund innovations
Lack of human resources to navigate innovation landscape, including certification and approvals processes
Lack of financial incentive to innovate, benefits are transferred to end user
Risk-averse behaviours, technology risks associated with water quality and public health
Procurement systems and regulatory environment that limit the market for innovations
The review has also identified recommendations for overcoming some of these key barriers in order to increase the uptake of innovation by private developers across the water sector. This includes encouraging organisations to strategically plan for innovation, building up internal capacity, and leveraging support of external stakeholders such as the utility. The utility will be a primary beneficiary of innovation particularly for technological solutions that extend the lifespan of infrastructure and improve quality of service provision. Therefore, utilities have a major role to play in supporting private sector actors to engage in innovation. This could be assisted by closer direct working in the innovation process, including greater knowledge sharing
and collaborative practices, or improved procurement systems that do not discourage innovation. Collaboration would also include the shared use of enabling technologies and sharing data (e.g. sensors and monitoring, use of visualisation and modelling techniques) that can help to reduce elements of risk within the innovation process.
The drive to improve water and wastewater service provision in remote areas, provides challenges to both utilities and private sector developers. Literature indicates that there is a trend towards remunicipalisation of decentralised systems elsewhere, as a result of poor technology performance or service provision. Innovative approaches and technologies could assist in overcoming some of these issues, but to be effective will require a more collaborative approach. In prioritising innovation with regards to small water and wastewater systems, enabling factors can include prioritising the market (e.g. focus on unserviced areas), government or utility support to overcome financial barriers and help to align value and risk chains, involvement of the utility in technology selection within the planning framework, and engagement with communities to raise awareness and educate end users on the capabilities and risks of technology choices. Innovation champions across stakeholder groups can be important to driving change, providing support, and ensuring collaborative approaches are adopted.