River Leven Catchment Initiative: Synthesis of current knowledge to help identify environmental management priorities to improve the water environment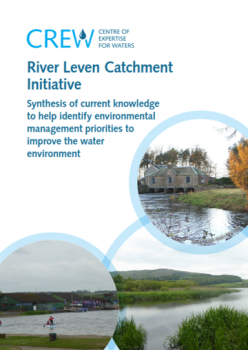 The main aim of the study was to review and synthesise current knowledge relating to the water environment within the River Leven catchment, including the condition of its rivers, lochs and groundwater.
The study addressed six main research questions.
What is the current condition of all rivers, lochs and ground waters in the River Leven catchment, based on available information?
What are the main pressures on the aquatic environment and the sources of those pressures?
What are the environmental management priorities for improving the water environment?
What is the baseline socio-economic condition of the River Leven catchment?
What is the current condition of Loch Leven and its catchment, and how have improvements supported socio-economic development?
What are the gaps in evidence and how can they be addressed?
All available water quality, hydromorphological and ecological data for the River Leven catchment were reviewed to identify water bodies that fail to meet Water Framework Directive (WFD) and conservation targets and could be improved through targeted management interventions. In addition, SIMD data were used to identify areas where high deprivation coincided with areas where water quality improvements are required to meet WFD and conservation objectives. The results are presented as maps and tables.
The output from this project provides a "first-pass" assessment of understanding of the River Leven catchment. It is not intended to be a comprehensive review of all of the data and information available. Draft environmental priorities are suggested for further consideration.