15th March 2023
Countdown to World Water Day 2023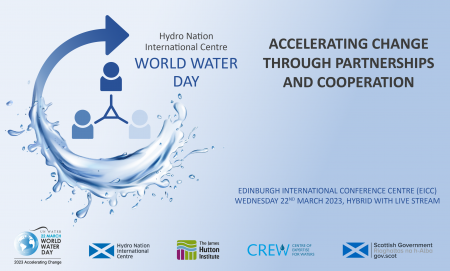 One week to go until World Water Day 2023 on 22nd March. Scotland joins the global water community with a hybrid event on the theme of 'Accelerating Change through Partnerships and Cooperation'.
This conference aims to explore emerging trends and opportunities for water to act as a catalyst for accelerating change.
We will hear from a variety of speakers from policy, practitioner and research perspectives addressing 5 sub-themes with water as the cross-cutting connector:
Water and health

Water and sustainable engineering

Water and digitalisation

Water and international cooperation

Water and policy
In the evening there is the much-anticipated CREW Lecture with a keynote from renowned international expert on participatory projects, Minni Jain.