9th October 2022
CREW 2022-2027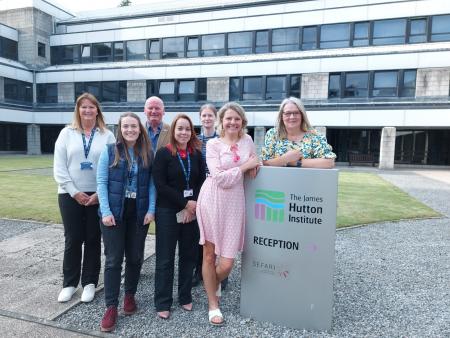 Welcome to CREW's new Programme 2022-2027!
The Centre of Expertise for Waters began a new Programme of activities on 1st April for 2022-2027.
We would like to thank everyone who contributed to the previous Programme, 2016-2021, and we look forward to working with you all and new contributors in the coming days, months and years.
Opportunities
CREW will soon be announcing calls for proposals for new projects. The calls will be hosted on the CREW website.
Follow us on social media to find out more about our work, recent publications and upcoming opportunities to work with us: @CREW_waters and @HNICScotland.
Changes and growth of CREW and the Hydro Nation International Centre
Bob Ferrier, Director of CREW and the Hydro Nation International Centre retired in September 2022 following 37 years of service at the James Hutton Institute. Bob contributed widely across Institute activities as a respected member of the Executive team and Director of the Centre of Expertise for Waters (CREW) based at the Hydro Nation International Centre. He held an Honorary Chair in the School of Social Sciences at the University of Dundee, Scotland, and is a member of the Scottish Science Advisory Council.
Professor Colin Campbell said "We are grateful to Bob for his leadership, his hard work and the ideas he contributed to the success of the James Hutton Institute and wish him well in retirement. His legacy will be Hydro Nation International Centre and the portfolio of world leading water-related activities that sit within the Centre."
Dr Rachel Helliwell, who has managed the Centre of Expertise for Waters (CREW) for the past 3 years will take on the role of Director of the Hydro Nation International Centre and CREW. She has 27 years of research and management experience in integrated sustainable water research and during that time has enjoyed working at the science:policy interface.
Further changes to the HNIC/CREW teams include the appointment of Dr Nikki Dodd to Deputy CREW Manager and the recruitment of Rebekah Burman as a CREW Project Manager. Nikki brings significant experience to the role having been a CREW Project Manager since 2016. Rebekah joins the team from NHS Orkney where she managed projects with environmental and health streams, including promoting the utilisation of blue and green spaces for health and wellbeing benefits.
Within the HNIC, Dr Maricela Blair, a former Hydro Nation Scholar, joined the team in September as a Hydro Nation Policy Officer drawing on her experiences from her PhD and working as an Analyst / Adviser for Science and Technology Institute in Honduras.
HNIC/CREW are expanding the team and are soon to be joined by a further CREW project Manager, Impact Officer and International Development Officer.