Impacts of winter 2015/2016 flooding in and around Ballater and in the Garioch: Project Year 2 Summary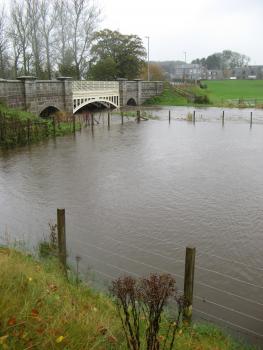 The purpose of the Assessing the Long-term Impacts of Flooding on People and Communities project is to better understand the long-term impacts of flooding upon people and communities and to consider what types of support and advice people and communities need at different stages of a long-term recovery. Over a 36 month period, the project is advancing our understanding of these long-term impacts, contributes to better flood risk management and makes suggestions as to how personal and community resilience may be supported and enhanced.
Two communities in Aberdeenshire affected by flooding in December 2015/ January 2016 are the focus of the research, one of which has repeatedly experienced flooding, one of which had little prior experience of flooding. The Ballater area, in upper Deeside, experienced severe flooding for the first time in many years in late December 2015, flooding that was largely unexpected and which had a widespread impact on the community. The Garioch area, specifically Port Elphinstone and Kintore, on the River Don, has experienced many flood events and was badly flooded in early January 2016. In Year One of the project three distinct yet complimentary data collections elements were undertaken: a Household Survey, conducted in both case study areas; a Business Survey, conducted in both case study areas; and interviews with residents and business owners/ managers in both case study areas, including interviews with those who were and were not directly affected by the Winter 2015/16 flooding. Findings from these three elements of data collection were presented, in three separate reports, to the project Steering Group in late 2017. A short report summarising Year One activities and key findings was published by CREW in early 2018. In Project Year Two a second round of interviews were conducted with householders and business owners/ managers in Ballater and Garioch. This report presents an overview of findings from the Project Year Two interviews. Another report will follow at the end of the 36 month project period.
You can find the first report of this project here