The North Glasgow Integrated Water Management System: A review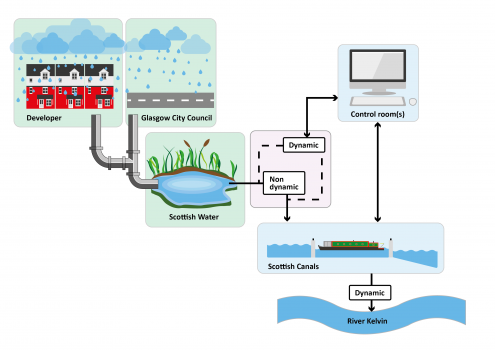 The Metropolitan Glasgow Strategic Drainage Partnership is made up of Scottish Water, Glasgow City Council, Scottish Canals, South Lanarkshire Council, Clyde Gateway, Scottish Enterprise, Renfrewshire Council, East Dunbartonshire Council and the Scottish Environment Protection Agency (SEPA) and represents an innovative approach to water management which meets the objectives of the Hydro Nation Agenda. Since its inception the partnership has sought innovative ways to manage urban water systems that are ultimately sustainable and support the continued growth of Glasgow. The North Glasgow Integrated Water Management System is at the study phase and is part of the regeneration plan for North Glasgow. The integrated approach to water management will provide a range of benefits that include: long-term regional growth; jobs in the local area; ecological recreational spaces; green infrastructure; sustainable urban drainage; internationally recognised case study in best practice water management; and improvements to air quality.
The MGSDP partners, at two workshops, engaged and discussed the operation, charging mechanisms, investment requirements and delivery plan to translate their vision into a sustainable reality for Greater Glasgow as Glasgow City Council embark on delivering their regeneration plan for North Glasgow. The Scottish Centre of Expertise for Waters (CREW) was asked to act as a neutral organisation and validate the plans together with hosting up to two stakeholder workshops to support the implementation of the MGSDP vision for NGIWMS.