Retrofitting Sustainable Urban Drainage Systems to industrial estates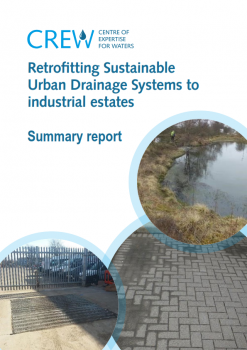 Industrial estates are a well-recognised cause of pollution and Sustainable Urban Drainage Systems (SUDS) have been identified as an important option to address the pollution risk. This study aimed to investigate the potential for retrofitting SUDS on industrial estates to try to reduce pollution of watercourses. The project focused primarily on source control SUDS, or SUDS on an individual property bassis, as well as conveyance types of SUDS.
The principal research site was Houston Industrial Estate, Livingston, which has over 100 businesses and includes major, extensive factory premises, as well as intermediate-size factory premises and many small industrial units typically managed by a landlord or agent. In addition, one sector of the estate has been redeveloped since the statutory requirement to use SUDS technology was established in Scotland. This allowed the project to assess the maintenance of the SUDS installed at that time as well as the SUDS awareness of those businesses.
Research methods included an initial SUDS awareness survey, verification visits and detailed follow-up with several premises to explore opportunities and barriers to retrofitting SUDS in their specific circumstances, and a breakfast seminar and focus group for participating businesses.
The study identified three broad classes of barriers to retrofits: cost, time and space. A number of opportunities were identified, including a need for education and engagement with businesses, including support to grasp opportunities as well as understand requirements. An Executive Summary and Summary report are available below.